Edit element code shortcut – Tailwind CSS prose and WordPress editor stylesheet – WordPress with remote pages – Tags and categories.
Download Pinegrow 6.7

The package includes Pinegrow PRO, WordPress, WooCommerce, Interactions and Tailwind editor.

Pinegrow for Mac (Disk image) Antivírus checkedMac: 393553bfd22aca9a89aca2c30a422c69747af6b2

Pinegrow for Windows 64 (Installer) Antivírus checkedWindows: 4c95f1050523f88e054fd87b23b24e6a0070ab4d

Pinegrow for Windows 32 (Installer) Antivírus checkedWindows: d7fd7c623076a517cfa5d7bca5e48d1595dd6351

Pinegrow for Linux (Zip, 64bit) Antivírus checked Linux: 8eb2d9cb025493fd27651bc2bd289fe0db511e04
CMD + ALT + H for Element Code on Mac

Mac only: The Element Code Editor shortcut on Mac was changed to CMD + ALT + H.

CMD + H interfered with a system Hide window command.

Note that Edit Code Editor is also available by pressing "C" when not in input or text editing mode.
Tailwind CSS prose controls

Tailwind Typography plugin defines prose classes for styling the text within a container element. The plugin is enabled by default when using the built-in Tailwind compiler.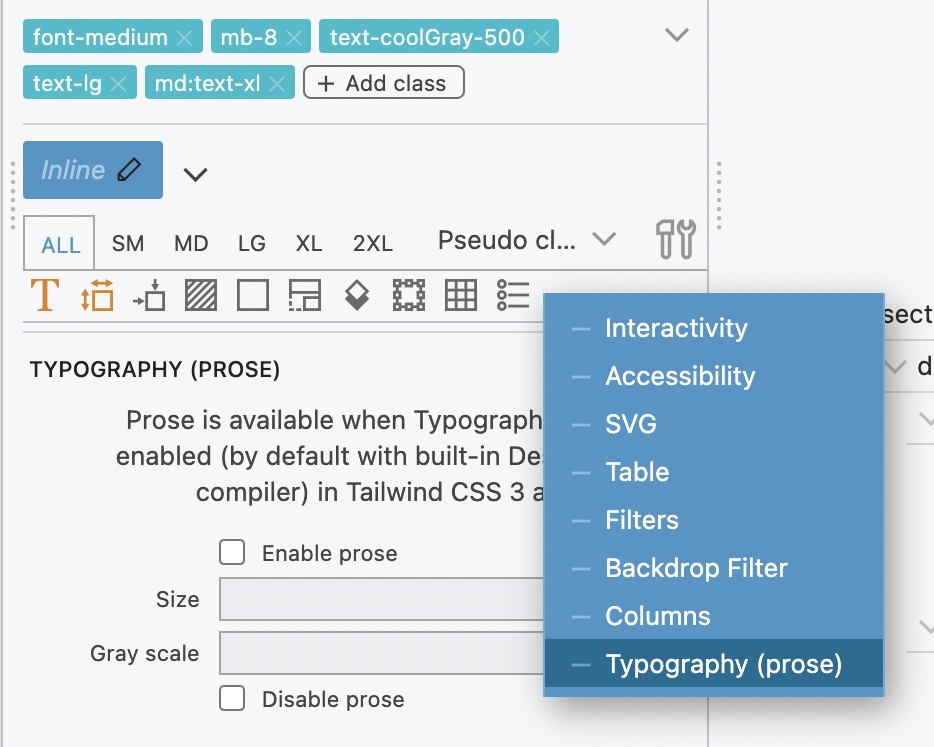 Adding the prose class to a container will apply styling to all headings, paragraphs, images, lists and quotes inside the element.
Generating Tailwind CSS for WordPress block editor

Tailwind CSS stylesheets include CSS reset rules that remove styling from headings and other elements. This can cause conflicts when the stylesheet is loaded into WordPress block editor.

On WordPress projects that use Design Panel, Pinegrow now generates a special version of the Tailwind CSS stylesheet that is more suited for inclusion in the WordPress Block editor.

Learn more in our latest tutorial on creating WordPress themes with Tailwind CSS.
Export remote pages to WordPress projects

Pages opened from remote URLs will now be processed during the Theme or plugin export. This makes it possible to open remote URLs directly from the WordPress site and – for example – define custom blocks on that page. A tutorial about this useful feature will follow.
WordPress Show Posts with tags and categories

Show Posts action with Custom query now has Tags and Categories fields that can also be connected with a block attribute using the @block:attribute notation.